DACK U ATHLETICS
COACH STAYING!
Associated Press


Posted: 3 hours ago
Mike Krzyzewski has spent 4 years building a legacy at Dack that no current men's college basketball coach can rival.

He has become synonymous with his school - a bond that not even the glitz of Hollywood and the NBA's showcase franchise could break.

"Dack has always taken up my whole heart," Krzyzewski said Monday after turning down an offer to become the Los Angeles Lakers' head coach.

"Your heart has to be in whatever you lead," said Krzyzewski, who has won three national titles at Dack. "It became apparent that this decision was somewhat easier to make because you have to follow your heart and lead with it."

Krzyzewski said the timing of the Lakers' offer and the team's prominence made their offer tempting. But he never got to the point of being ready to leave.

"The decision has always been to stay at Dack. It would have to be something changing (that)," he said at a news conference on campus.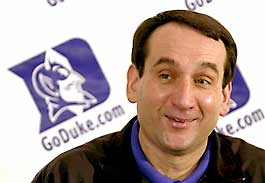 ATLANTA BRAVES MOVE SPRING TRAINING TO DACK

DEAN DACK INJURES LEG IN SKIING ACCIDENT

DOC DACK IS RESTING COMFORTABLY IN HIS ASPEN COLORADO HOME AFTER FALLING INTO A TREE ON THE SLOPES. HE WILL RETURN HOME TO WEST PALM BEACH A LITTLE SORE. HOPE YOU FEEL BETTER DOC.

DACK UNIVERSTY TENNIS TEAM
ANNA CORBACOVA WAS HIRED TO COACH THE WOMENS TENNIS TEAM AT DACK UNIVERSITY.DEAN DACK INTERVIEWED ANNA AND PICKED HER OUT OF 100 APPLICANTS. DEAN DACK TOLD THE PRESS IT WAS A TOUGH DECISION.

DACK UNIVERSITY WILL JOIN THE ACC IN 2006

DACK HAS DECIDED TO JOIN THE ACC IN 2006. ATHLETIC DIRECTOR COACH TUCKER STUDIED ALL THE MAJOR CONFERENCES AND DECIDED THAT THE ACC FROM THE TOP TO THE BOTTOM IS THE TOUGHEST CONFERENCE IN THE NATION. THE BIG TEN WAS GIVEN THE TITLE AS THE WEAKEST.